HPP (High Pressure Pasteurization) – A business and technology perspective.
The President and Chief Technology Officer of Teinnovations, Prem Singh, was interviewed by the Editors of Refrigerated and Frozen Food magazine regarding HPP Technology and business perspective.  Here are some useful excerpts from his interview.
What categories of HPP products do you foresee/experience the most growth? Why? According to our July 2019 State of the Industry report, the cold food and beverage industry is experiencing a major marketplace disruption, with e-commerce, direct-to-consumer and grocery delivery services becoming more prevalent. How do you see this trend unfold from an HPP standpoint? How does this marketplace disruption impact or evolve HPP foods and beverages?
I see that the biggest category growth from HPP is in variety of fresh Juices and beverages.  Followed by Juices are the avocado products, cold salads, fruits and vegetables, meats, and salsa.  These products are convenient, nutrient dense and could be offered in organic, natural, fresh and functional food platforms. Fresh Juices and beverage categories are growing very fast offering products with longer shelf life, fresh taste, nutritional superiority, minimum preservatives, and food safety.  Within the beverage category, carbonated drinks, cold-brew coffee, teas, lassi, Kombucha, coconut water and other functional drinks are the primary growth engine.

As we know, E-commerce, buying goods and services on internet, is a direct B2C (business to consumer) transaction. Almost half of US consumers have purchased through internet generating a market value of 1.5 trillion dollars – and online grocery purchases, amounting to 17.5 billion dollars in 2019, is estimated to rise to 30 billion in 2021.

E-commerce consumers tend to be technologically savvy and are paying attention to the health and nutrition benefits of the foods they buy. They are looking for minimally processed foods retaining the health benefits of foods in their natural state. They want more sustainable packaging and reducing packaging waste.

HPP affords the opportunity to prepare foods in their natural state without sacrificing food safety. It reduces packaging and food waste by increasing shelf life and minimizing the packaging required. HPP processed foods and beverages, especially those with quick delivery through E-commerce, can provide some of the freshest product quality, while still maintaining food safety and reduced packaging footprint.   I see the prevalence of e-commerce and direct -to-consumer and grocery delivery will further extend the use of HPP as the food safety and consumer demands for healthy, tasty and "good for you" food will remain strong, no matter what channel the food is delivered. The variation in e-commerce shipping channel including temperature, time, humidity, and other storage conditions will ultimately require safe, tasteful products to be processed in HPP. As the demand for Ready-to-Eat (RTE) or Ready-to-Drink (RTD) and minimally processed fresh products increases, e-commerce and other direct delivery model will find it beneficial and attractive to use HPP and subsequent refrigerated technology. Additionally, since HPP is done in in pre-packaged food, e-commerce will find this technology congruent to the method of direct delivery of packaged foods. Additionally, since HPP is done in finished packaging, the packaging waste can be minimized, and packaging mode can be optimized to reduce packaging material used for e-commerce and direct-to-consumer shipment.  85% of the retailers say they have been influenced by fresh food demand and 78 % say they would like to work with companies producing fresh foods. This trend is real and will influence the buying behavior of e-commerce consumers as well. Today's consumers are more educated and demanding about the quality, nutrition, safety and sustainability of what they purchase and eat, no matter what channel they buy from.
One of the challenges of any new market trend is consumer education. How are the industry overall educating consumers on the benefits of HPP foods and beverages? Please discuss the HPP Seal.
The safety, quality, shelf life and nutritional benefit of the process or the products are not yet well communicated to the consumer, but it needs to be. One important aspect of HPP growth potential is balancing the equation of consumers "Willing to Pay" (WTP) and the benefits they perceive. Unless the paying consumer understands the value and benefit of HPP and premium he or she must pay, the growth of HPP in the market will be affected.

The importance of consumer awareness and understanding of HPP is well recognized by the food developers, food and equipment manufacturers, sales, marketers, food industry associations, and packaging companies.

Cold Pressure Council (CPC) in association with PMMI (Packaging Machinery Manufacturers Institute) and others are active in promoting HPP.  This includes webinars, presence on member websites and annual conferences.

"HPP seal" was developed by CPC/PMMI to promote the HPP to consumer.
CPC offers "High Pressure Certified" seal through the third-party audit to verify the HPP program including HACCP and other process control mechanisms.  This seal or logo helps to promote HPP and informs consumers benefit of the process. CPC charges for the licensing of the seal which helps uniformity of HPP application and regulatory guidelines across the industry. See Fig (1) for CPC founding members.
High  pressure Certified logo  and CPC founding members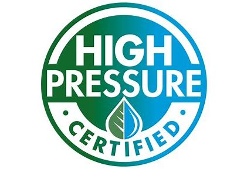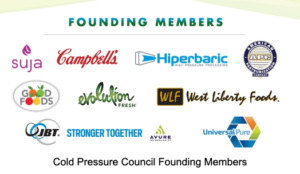 Anything to add to the conversation of HPP trends and technologies? This can include press releases of new product/equipment developments, case studies, company news, trends reports, etc. Anything else you want our readers to know?
Significant innovations are taking place in the RTD (Ready-to-Drink) space utilizing HPP. Many efforts are focused on making drinks more like whole foods containing protein, pulp, seeds, fruits, nuts, nutrients, probiotics. Field + Farmer company has introduced all new juices like "Ginger, Lemon and Cayenne cleanse" and Apple, Kale, Lemon and Wheatgrass cold pressed juices. They have also created new innovative dips with new flavors like Curry, Turmeric and Lentil dips.

Suja's organic, 20-calorie cold-pressed celery juice contains all celery with a "touch" of lemon juice. It is USDA certified organic, non-GMO, kosher certified, vegan, dairy-free, soy-free, gluten-free with no added sweeteners.  Suja's Kombucha products are another example of functional food innovation.

Other unique product is from "Origin Almond" designed for Keto, Vegan, Paleo consumers available in many varieties. Interests in HPP product formulated with CBD (Cannabidiol) is also growing.  CBD is not psychotic.  Honey drop Beverages in partnership with "Evo Hemp" introduced pressed CBD lemonades.

One HPP new technology was announced by Hyperbaric which allows HPP processing liquids in bulk and subsequently filling in bottles, pouches, "Cheer Packs" (spouted packages) or sachets packaging in hygienic manner. Hiperbaric bulk 525 HPP model delivers up to 4000L/hour and offers lowest processing cost and minimum energy requirements. Ateliers Hermes Boissons (AHB) a French co-manufacturer has announced to become the first company to invest in new Hiperbaric Bulk Processing HPP equipment.

HPP process is done with foods pre-packaged and hermitically sealed in flexible packaging, trays or bottles. The packaged products are loaded in carrying vestibules or tubes and subjected to high pressure (typically 600 MPa for 3 minutes) in a specially designed pressure vessel (Fig 1) filled with pressure transmitting fluid (typically water) pressurized by mechanical means. After the pressurization for a given time is complete, the pressure vessel is decompressed, and product is taken out of the vessel for further inspection, bulk packaging and shipping. The packaging design and consideration of packaging materials are extremely important to the successful implementation of HPP.  To fail in the packaging is to fail in the HPP processing. Properly selecting the type of polymer composition for the packaging is important.  The lamination of the inter-layers of the polymeric film and containers should be designed to withstand the pressure in the HPP. Permeability of the oxygen and water vapor should be minimized for the better shelf life of the product. A good oxygen barrier film or container can be designed by laminating, extruding, or coating an EVOH ((Ethylene Vinyl Alcohol) or PVDC (Poly Vinylidene Chloride) substrate in the film. Other inorganic oxygen barrier substrates like Alox (Aluminum Oxide) or Siox (Silicon Di oxide) do not work well in HPP as we have seen breaking down of the barrier layer losing the oxygen barrier properties.  In a typical HPP application, the volume of food product and the packaging itself will decrease 15 to 20 % depending upon the  composition of food and packaging, thus the packaging materials must be flexible enough to flex by that amount and then reverse back to its original shape and volume when the pressure is released after the pressurization cycle is completed. The free head space over the product in the packages must be minimized to avoid undue stress on the package hermetic seal and to avoid higher percentage of leaking, defective packages. A good lidding film for the trays must seal to the containers to provide hermetical seal with desired easy peel feature. The bottles used in HPP must also flex by around 15 to 20% in at least one direction to be compatible with HPP. The enclosures or caps must be compatible with HPP so that the integrity of the seals is not compromised. The labels, inks and printing should be waterproof and HPP compatible. Vinyl labels works good in HPP. Flexibility of the packaging equal to the compression of food and air in the package in HPP is necessary to transmit the applied pressure for enough microbiological and other required inactivation (enzymes) during the processing.

A typical lidding film may contain for example PET/PE and EVA sealant. As an example, one universal HPP film sealing hermitically to all container substrates including PET, PP, CPET, PS, PLA andPSM making a peelable seal is available from Teinnovations LLC in Warrenville, IL, USA.

The HPP equipment can cost from $500,000 to $ 5MM depending upon the size and layout. A good option is utilizing the HPP co- packaging or toll processor to avoid the capital investment until such time when the production volume can justify the equipment capital. A list of HPP toll processors is readily available.

Typically, the additional cost incurred in HPP processing is about 5 to 15 % depending upon the product, processing and material handling parameters. High defect rate or leakers packages increases the cost significantly.  Some physical properties of the product should be understood for effective packaging including water activity (Aw), Ph, viscosity and texture of the product etc. Water activity is the ratio of water vapor pressure of a given food to the water vapor pressure of distilled pure water under the same conditions. It is expressed in fraction/decimal.  For example, the water activity (Aw) of Deli ham is 0.9, a good Aw level for HPP. Water activity of dried fruit is 0.6, not good for HPP. Water activity of foods for HPP should be above 0.87. Lower Ph favors the HPP efficiency, but texture may be affected. HPP products are distributed refrigerated. The composition of the foods is also important – protein, fats, sugars, starches can serve to increase the microbial resistance to HPP.

Bacterial spores, particularly relevant Clostridium Botulinum show significant resistance to HPP.

HPP is beneficially used in Mollusk Shucking like oysters and clams.

HPP can also be used for freezing, thawing and extraction of bioactive components from raw materials
---
< Back To News